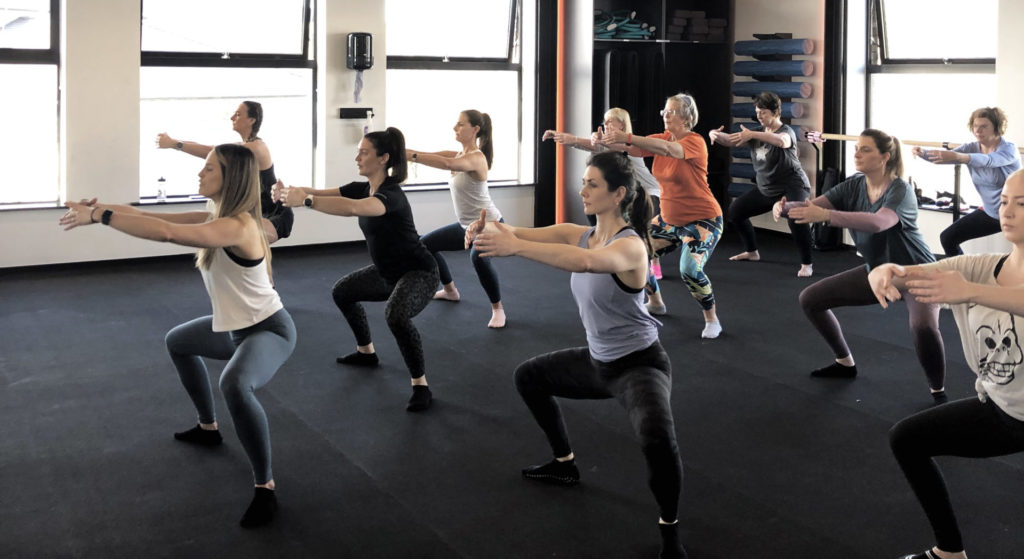 Sanchia's Barre classes
Barre, a ballet-inspired class which is exclusive to Fitness 360, has been going strong since its launch in September last year.
So strong in fact that every Tuesday, Wednesday and Saturday session has regularly been FULLY BOOKED!
Fitness 360 Supervisor Jess Ward caught up with solid Barre devotee, Georgie Gray, to find out how she has been getting on since attending classes from the very beginning. 
'Barre is fabulous!' she said. 'It's huge fun and great for me as I struggle with high impact exercise.

'It gives me a cardio workout combined with brilliant toning. Much needed in middle age! It is so difficult to find an exercise class which gives me the benefits of both.

'Every session is different, but it builds and develops on what we learn.

'Having attended regularly I have made such wonderful friends, which motivates me enormously. 

'It is such a happy and mood-lifting class.'
The woman behind this in-demand class is qualified Pilates, Yoga and Barre instructor Sanchia Ferreria, who also happens to be an experienced physiotherapist. 
She is someone who Georgie cannot compliment enough! 
'Sanchia is just the best instructor,' added Georgie. 'She challenges us but adapts the class to all abilities. She adjusts our positions, so you know you are getting the most from each class.

'I love it and would thoroughly recommend coming and experiencing the joy of Sanchia's Barre classes.'
It has been Sanchia's dream to introduce Barre classes to the Isle of Man.
We asked her a few questions about her classes:
What inspired you to start Barre classes?
'I have always been passionate about and fascinated with the human body and how movement can create change. 

'Being a physio, I realised I needed to expand my skills to offer the general public/my clients options that they could choose from to improve and maintain their health and wellness. 

'I found that Pilates and yoga was incredible for this, but some of my clients were looking for more of a burn and more of an aerobic challenging kick. 

'Barre was the perfect solution as it is still a low impact exercise which incorporates maintaining and stabilizing the core to generate and maintain movements whilst building strength to music. 

'Back in South Africa I did Barre and absolutely loved it. I tried to find Barre on the island (or something similar), but I couldn't. So, I decided to expand my repertoire and skill set and build on my love of dance.'
How has it been going since you launched the sessions in late September?
'It has been absolutely inspiring watching people from all ages, body types and abilities give it a good go and commit.

'We have such a good laugh, a good dance and a good sweat in the classes and everyone brings a beautiful energy.

'The classes have been such a success from the start owing to everyone's commitment to want to improve.'
How are these classes beneficial to members?
'Barre fitness is a hybrid workout class – combining ballet-inspired moves with elements of Pilates, dance, Yoga and strength training.

'All my classes incorporate a ballet barre and use classic dance moves (such as plies) to build strength globally.

'Barre is a full body workout which focuses on high reps of small range movements to create a burn. The main element which is focused on in every class is the core activation to stabilize the trunk of the body to execute movements safely and with good alignment.

'We work on posture, endurance of the postural muscles and correct body alignment throughout the class. But Barre itself is literally good for every part of the body- core, arms, legs and booty.'
Book Barre at Fitness 360 on the MINDBODY app.
To learn more about the Barre classes click here.
Spaces go quickly, so make sure to sign up fast!
Blog as featured on Cycle 360's website.